Book Reviews -- OUTCRY Magazine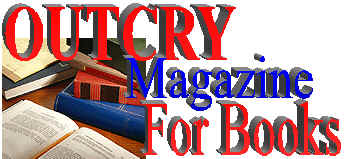 Health Care Issues
Artist.htm The Psychology of the Artist - How human immune system plays a major role in keeping us healthy.
ChronicFatigue.htm Chronic fatigue and Immune Dysfunction in the book: Beyond the Dark Cloud.
FreeMercury.htm Dr. James Hardy's outcry about the serious dangers of mercury in dental fillings.
Codependent'sHealing.htm A Leaf Falls: A Bud Blossoms -- One Codependent's Journey to Heal the Wounded Soul.
Religion and Spirituality
DivineLight.htm Divine Light Eternal Life -- An incredible story of immortality, healing, and heaven with joyous expectation to the heart.
Maitreya.htm Maitreya's Mission # III -- presents a compelling and detailed vision of the future of the "brilliant new civilization" ahead.
Miracles.htm Foundation for "A Course in Miracles."
Money & Business
HumanPredators.htm People Who Prey - Human Predators -- written to warn people about scam artists.
FundRaising.htm Fund Raising & Marketing in the One-Person Shop.
FinanciallyIndependent.htm How To Become Financially Independent.
GuiltbyAssociation.htm A Survival Guide for Homeowners, Board Members, and Property Managers.
Social & Political Issues
MoneyTalks.htm Money Talks, O.J. Walks -- The real story behind O.J. Simpson's case.
Biography
BufordPusser.htm The Twelfth of August: The Authorized Biography of Walking Tall: Sheriff Buford Pusser.
Sculptors.htm The Sculptors O'Connor: A historical profile of two sculptors -- Andrew (Jr. & Sr.) O'Connors.
Women's Issues
DrJohnson.htm Walk The Rainbow: When you get tired of waiting to exhale.
FemaleRituals.htm Sisters of the Thirteen Moons -- Rituals of Celebrating Women's Lives.
Poem & Poetry
PerfectHarmony.htm Perfect Harmony is a book for young readers about family and the world around them.
Moments.htm Moments in Time: Poems Praising God, Love, Nature and Spirituality.
Children's
Children'sBooks.htm Dr. Nim and the Strange Quest;
Digger Gets Help; The Night of the Willies.
or directly from the publishers
OUTCRY Magazine's other book reviews
www.smallbusinesses.com/reviews1.htm
www.smallbusinesses.com/reviews2.htm
www.smallbusinesses.com/reviews3.htm
www.smallbusinesses.com/reviews4.htm
www.smallbusinesses.com/reviews5.htm