OUTCRY
NEW BOOKS: Patricia's wedding.htm
FALL OF THE HOUSE OF GACY by Harlan Mendenhall.
The author met Gacy in prison on death row while teaching prisoners at the Menard Prison at Chester, Illinois. This is the only authorized biography of the serial killer convicted of killing 33 young men and boys. Published by New Authors Publications, 606 South Monroe, P.O. Box 489, West Frankfort, Illinois 62896. ISBN # 1-887827-01-03, $12.95, add $2 for mailing. Agent: Bob Ellis, 618-937-1304.
LIFE ISN'T JUST A PANIC by Anita Pace.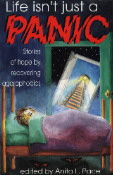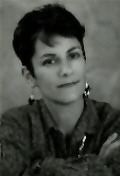 This is an amazingly eye-opening book about the emotional illness most people know nothing about. It is a shocking revelation of the possible genesis of anxiety disorder just like any other medical conditions. Published by Baby Steps Press, P.O. Box 1917, Beaverton, OR 97075. Send Check/mo. for$13.95, for credit card order call toll-free:888-994-0569 for talk show interview: 800-949-4416.
WHERE THE HEART IS: STORIES OF HOME AND FAMILY by Chick Moorman.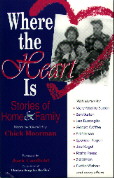 The book celebrates family strength, love, tolerance, hope and commitment. It allows us to glimpse models of parenting that nurture, uplift and inspire, producing respect amongst all family members. Published by Personal Power Press, P.O. Box 5985, Saginaw, MI 48603. For interview call 800-797-4133, for book order send $14.95.
OVERCOMING THE INVISIBLE CRIME by 'Yinka Vidal.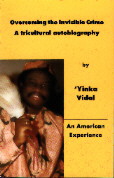 Outcry-lara@msn.com
THE VERY QUICK JOB SEARCH by J. Michael Farr.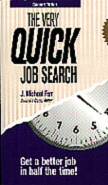 The book explains how to get a better job in half the time. His commonsense advice helps readers conduct an efficient, and energetic job search which gets results. Published by JIST Works, Inc., 720 North Park Avenue, Indianapolis, IN 46202. For order send check/mo. for $14.95 plus $4 shipping and handling, for talk show, contact Kathleen Martin, 317-264-3720.
CONDOM NATION: BLIND FAITH, BAD SCIENCE by Richard A. Panzer.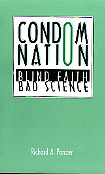 A lucid and urgent examination of our nation's reliance on a quick fix for a cultural problem; the condom. In this extensive review of sexual habits, Panzer looks at kids today, their parents and teachers, the media, Uncle Sam, health care leaders, and other pivotal pressure points. Published by Center for Educational Media, P.O. Box 97, Westwood, NJ. 07675. For book order send $12 plus $3 S&H. For interview call 800-221-6116, E.mail CenEdMedia@aol.com
MARKETPLACE COMMUNICATIONS (Master Media) by Merrie Spaeth.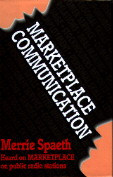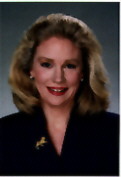 This is a new book written by a former child movie star and White House aide to President Ronald Reagan, now a leading consultant specializing in communication management. She analyzes and comment on the strategy, style, and techniques in corporate communications. Published by MasterMedia Ltd., 17 East 89th Street, New York, NY. 10128. ISBN 1-57101-032-7, $17.95. Contact persons: Jennifer Enlow, 214-871-8888 & Melinda Lombard, 212-546-7650.
THOSE MAGNIFICENT OLD STEAM FIRE ENGINES by W. Fred Conway.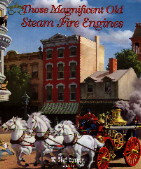 Invented out of desperation in the early 1850's when volunteer firemen with hand-operated engines could not or would not control fires while fighting different factions. Published by Fire Buff House Publishers, New Albany. Send orders (check/mo. for $29.95) to Fulfillment Center, P.O. Box 711, New Albany, IN 47151 or call 800-234-1804. For talk shows, call 800-995-9901.
THE RAINBOW CONNECTION: THE MYSTICAL CHILD by Janet B. Simmons.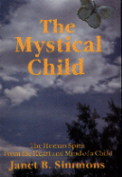 Jeannette's struggle as a child is depicted in this book where the world was not safe even in Oakland California in 1930. But, there is not much choice, she must survive and make sense out of existence. The adults reach a crisis and must remember the lost inner child to survive, conquer defeat, discouragement, and malaise and finally to find "The Rainbow Connection." Published by Enlightenment Press, P.O. Box 3314C, Santa Clara, CA 95055. For order, please send check/mo. for $19.95 (postage & handling free). Available for radio/TV interview, contact Jay Simmons (408-248-3222).
TRADITIONS & REMEMBRANCES: Anthology of traditional proverbs by Mary Billy Kuhtik.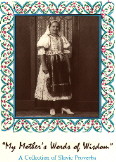 My Mother's Words of Wisdom: A Collection of Slavic Proverbs is a delightful publication of 725 translated proverbs. In her introduction, the compiler acknowledges the faith and wisdom of the Slavic/Rusin people, these proverbs are preserved and passed on to future generations. Published by Mary Kuhtik, 64 pages, $10 plus $3 for postage & handling. Send orders to Mary Kuhtik, 22 West Curtis Street, Linden, NJ. 07036. Phone: 908-925-4627.
ELIZABETH: A TRUE STORY by Elizabeth Mei.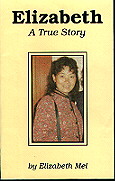 Elizabeth's amazing autobiography takes her from war-torn China to her personal tragedy in the United States. It begins with Elizabeth awakening from a six-month coma which changed her speech, mobility and her life forever. Available at Mei Publishing, P.O. Box 2105, Utica, NY 13503. Send check/mo. for $13 plus $2 for S&H. For interview call 315-732-3527.
NEXT DOOR TO POWER by G. Wayne Dailey.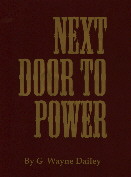 This is a book about the forty five men who served as Vice President of the United States. It takes each of the men in a chronological order and tells stories about their lives. Excellent book for students learning about the politics of the Vice Presidents. The story may be political, or may be concerned with the social aspects of each of the Vice Presidents. Published by G. Wayne Dailey, $11.95, plus $3 for S&H, 1447 Dinnerbell Lane, Dunedin, Florida 34698. For interview call 813-734-0502. E.mail: wayne@sunworks.com
THE 900 BUSINESS SURVIVAL GUIDE by Scott Elliot.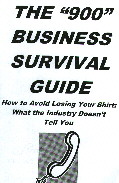 Anyone considering getting into "900" business can now get honest, straight forward, insight from a new book. The reader is walked through every aspect of the business giving instructions on how the system works and important hints on major things to avoid. Published by Magnet Publishing Inc., 46 SW 1st Street, Suite 400, Miami, Florida 33130. Send check/mo. for $17.95 plus $4 for P&H. For talk show interview call 305-531-9020.
PROFILE OF AN IMPRESSIONIST PAINTER: J.M. HAMILTON by Dr. Richard J. Alperin.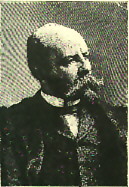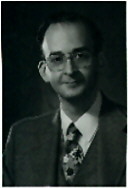 On September 10th, 1936, John Mclure Hamilton died after residing abroad for over fifty eight years. An Impressionist artist whose story was never before told for people to appreciate his great work and artistic talent. Dr. Alperin wrote about the artist's life and exhibited his work lavishly in this book of a historical masterpiece. Published by Junius Inc., 842 Lombard St., Suite A, Philadelphia, PA 19147-1317. To order send check/mo. for $125. For talk show interview call Jay Behrman at 215-627-8298.
MARRYING THE NATIVES: Love and interracial marriage by Peter M. Rinaldo.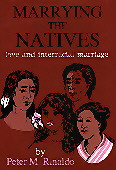 This new book recounts the history of three hundred years of interracial sex and marriages between American Indians, Japanese Ainu, Australian Aborigines, New Zealand Maori, and Brazilian Indians and their conquerors. The book examines the motivation, problems and advantages of contemporary interracial marriages. Published by DorPete Press. P.O. Box 238, Briarcliff Manor, NY 10510. For book order, send check/mo. for $14.95. For talk show interview call Rachel Hastings, 914-941-7029.
AFFIRMATION FOR GETTING WELL AGAIN by Carl Simonton, MD.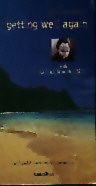 It is a remarkable multimedia wellness journey truly worth taking. Based upon pioneering insights from Dr. Simonton's clinical research, this video program is designed to enable people to harness their healing resources. Produced by TouchStar Productions, 1012 Water Street, Meadville, PA 16335. To order the videotape, send check/mo. for $24.95. For talk show interview call, 800-759-1294.
MY PATIENT-GOD'S GIFT: Mariette, a saint for our times by Gerald E. Nelson MD. & Mariette Do-Nguyen.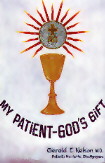 Although Mariette left the Roman Catholic Church nine years earlier when she was called to be an instrument for restoring freedom to worship Him in her native Vietnam, to minister to priests, and unify the church. Since then, God has worked through Mariette and guided her as she contacted government officials, US. senators, Congress, and even President Bill Clinton. Published by Rebuild My Church Mission, P.O. Box 261550, San Diego, CA 92196-1550. For order send check/mo. for $22 plus $3 for P&H. Available for talk show interview, call 619-689-0445.
LEADERSHIP WITH A HEART: The Human Side of Management by Nancy Mercurio.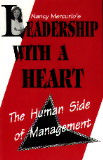 The book teaches the most unique aspects of managing people including human compassion. It is a must book for any supervisor, manager or anybody in position of managing people. This book will touch your heart while giving excellent suggestions on how to handle the most difficult situation with employees. Published by Written Image Publications. To order write Leadership With A Heart, 3024 Landmark Blvd., #604 Palm Harbor, Florida 34684. Tel. 813-771-1106. Contact agent: Deirdre Enright: 970-204-9121.
THE ULTIMATE POWER: How To Unlock Your Mind-Body Potential by Ken Vegotsky.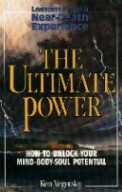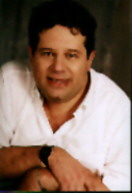 A story of a very determined author who came back from the dead after a near death experience that almost destroyed his life. He experienced death from a parasailing accident after which he went through a period of excruciating pain. His process of healing is what he refers to as, The Ultimate Power. It's a highly inspirational book, 230 pages, $14.95. Published by Ages Publications, imprints of Adi, Gaia, Esalen Publications Inc. 8391 Beverly Blvd, #323-VV, Los Angeles, CA 90048. Agent: Call Al.Daniels at 800-652-8574
101 NIGHTS OF GRRREAT SEX by Laura Corn.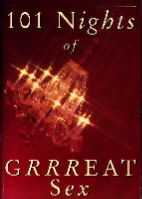 An amazingly unbelievable book meant to ignite the heat of erotic desires between a couple in a way nobody has ever done before. Laura was married for eight years and never had an orgasm. She therefore started an interview research to find a cure. Call it an erotic lesson for adults looking for ways to rekindle that sex desire. No more excuses for couples to be bored in bed. This book is an antidote for sexual boredom. Make sure you get a very sharp knife to cut through the pages as instructed, and please watch your fingers! USA Today calls it, "101 Night of lusty love lessons." This book will surely ignite the fire between the thighs! Published by Park Avenue Publishers, 905 South Hohokam Drive, Tempe, AZ 85281. Contact person: Bill Wright 405-751-5002
1.New books I OUTCRY News Page 2. New Books III Dr. Lant's page
3. New Books IV 4. OUTCRY Home Page
CompanyLongName Establishes Internet Presence

See the press release for more details.

Press Releases
These are the press releases we've issued over the last year. You may want to search for topics by keyword.

Recent Media Coverage of CompanyLongName
Title, Publication, Date
Title, Publication, Date
Title, Publication, Date
Send mail to CompanyWebmaster with questions or comments about this web site.
Last modified: November 12, 2010