New Books IV
A profile of great authors!
OUTCRY Magazine Lara Publications, St. Louis, MO.
THE FEEL GOOD FOOD GUIDE by Deborah Page Johnson.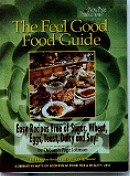 If you or your loved one have been avoiding allergic foods for a while and want to add a little variety to your diet, or if you just want to eat extremely healthy, this book is for you. The goal of the author is to put the information people will need to be successful in preparing healthy recipes at their fingertips. This book will guide the reader on how to avoid specific food sensitivities by eating healthy, delicious meals and snacks.
Published by New Page Productions, Inc., Naperville, Illinois, 188 pages, $18.95. For book order call or talk show, call (630)-495-7755. 2001 Midwest Rd., Suite 102, Oak Brook, Illinois 60521.
GOD AND SEX, TOO! The Novel by Dr. Dean Dauw.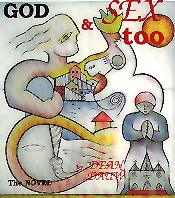 This is the story of an ex-Catholic priest about his life and experience before leaving the parish to become a sex therapist. He writes about the amazing sex confessions by people. He discusses how the church teachings have contributed to guilt, fear and deviance in society. One of his objectives is to help people get rid of their guilt and put the joy of sex back into their lives.
Published by Fort Dearborn Press, Chicago. For talk show call Dr. Dauw, (312)-644-1920. To order book call Bookmasters, (800)-247-6553, 362 pages, $24.95.
THERE IS SOMEONE OUT THERE by Yisrayl Hawkins.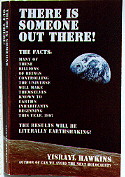 A highly amazing book with convincing arguments about the existence of God and other beings at higher levels than humans. He asks and answers the enduring questions about the possibility of other life forms, the purpose of man's existence, who created the universe and who is controlling all the activities in the universe. It's a very fascinating book picking up from where scientists, scholars, astronomers and theologians leave off. The author reveals shocking truths about man and the universe using facts from history, science and theology.
Published by Books-A-Hoy Publishers, Inc., P.O. Box 5555, Abilene, TX 79608. For talk show call contact, Shaul Hawkins, (915)-672-9492, 382 pages, $24.95.
COLORADO CABINS LODGES & COUNTRY B&BS by Hilton and Jenny Fitt-Peaster.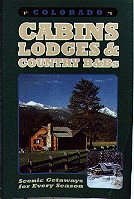 For nine years, Hilton and Jenny Fitt-Peaster spent their entire summers visiting almost every cabin, cottage, lodge and country bed and breakfast resort in Colorado. This wonderful book is a road map for those looking for vacation spots in Colorado mountains. It's like a very useful directory of detailed property information and sketches on 234 resorts throughout the mountains and high country plains of Colorado.
Published by Rocky Mountain Vacation Publishing, Inc. 5101 Pennsylvania Avenue, Boulder, Colorado 80303-2799. E.mail, caccl@caccl.com Phone, (800)-886-9343. For talk show call, (303)-499-9385. Fax, (303)-499-9333.
SOARING TO NEW HEIGHTS ON THE WINGS OF EAGLES by Carleen Franklin and Sarah LaPlant.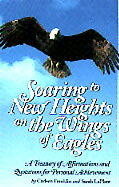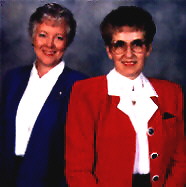 Two motivational speakers have created a treasure of affirmations and quotations for personal achievements. Each line, each page of this pocket size reference book stands alone for an instant pickup in any busy hour or day. The reference is drawn to the magnificent and awesome eagle that never doubts it's power - it accepts it! With their intense motivational energies they will help their audience achieve to great heights.
Published by Excelerators, 1631 S.E. 24th Boulevard, Okeechobee, Florida 34974. 112 pages, $9.00. For talk show interview call Carleen or Franklin, (941)-467-5350, E.mail, carleen@okeechobee.com
BANISHED FROM THE SANDBOX by JAY.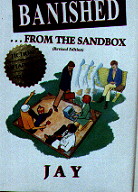 This is a transformation story of a young, professional, well-educated man, who having done everything and been everywhere and fulfilled all of his dreams. Yet, he feels excluded from the sandbox of life and goes in search of deeper meaning to our entire existence. In the process, Jay discovers the spiritual answers to the basic questions of life on Earth (such as careers, sex and relationships), plus the truly meaningful unanswered questions about life itself.
Published by Inspiration House, Vero Beach, Florida. For book order, call Bookmasters, (800)-247-6553, 302pages, $19.95. For talk show interview contact Kim Locksley (801)-567-0707.
TESTIMONY OF THE TWENTIETH CENTURY: Before and After the Berlin Wall by Marie Ueda.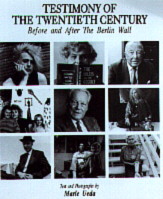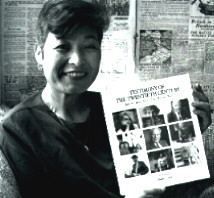 The book is a series of interviews documenting the legacy of the Nazi Wars reported internationally. It presents eighty voices of people from different parts of Europe. Covering the diverse occurrences of the war and presenting a broad spectrum of people, both wartime and postwar generations, the author raises provocative questions surrounding the fundamentals of human conflicts; ethnic, racial, religious and other social-political issues.
Published by Marie Ueda Productions, P.O. Box 642219, San Francisco, CA 94164-2219. For book order or talk show interview call, (415)-474-3854. Fax, (415)-474-1264, 488 pages and 80 photos, $65.00. E.mail, marie@wordrunner.com Her web site, www.wordrunner.com/testimony.
News Books I OUTCRY News Page New Books III & Lant's page
New Books II OUTCRY News Page Back Home OUTCRY Home Page