#1 children book
Breakfast with Sammy -- Children's Book by William Graham, Ph.D.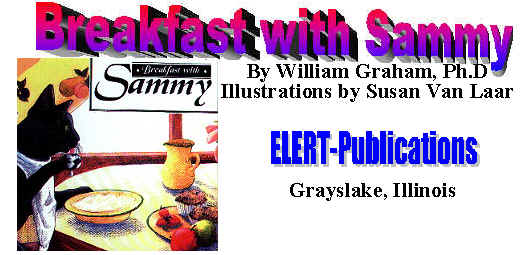 | | | |
| --- | --- | --- |
| | Watch Sammy in action | |
Children's Book: Breakfast with Sammy A Brief Description
Breakfast with Sammy© is a charming, color illustrated children's reading book designed to help reading mentors guide young reader while it holds the interest of children. It comes with a glossary of words and an Exploring and Imagining guide, with questions to help readers of all ages explore the richness of the ideas behind the story. The story is a true one, about a little stray kitten, Sammy, who needs a family. The young girl in the family, Molly, decides that she will find Sammy a home and so she gets her aunt and uncle to adopt the little cat. The story raises many adult issues, such as: How to you know the kitten is a stray and not lost ? How do you take care of a kitten? Not everyone likes cats, especially black ones - how do you decide to take responsibility for a cat? The story answers these questions and more, leading the young reader on a journey that both charms and informs.
Breakfast with Sammy along with the Exploring and Imagining guide (ISBN 1-892217-00-7) is available directly from the author at a special reduced price: only $10.95 U.S. plus postage and handling. It may be ordered directly from the internet at: Elert Publications. You may also order it via regular mail at: ELERT Publications, P.O. Box 7121, Grayslake, IL 60030
| | |
| --- | --- |
| About the Author | William Graham, Author and President ELERT Publications |
| | |
| --- | --- |
| | Author: William Graham, Ph.D. |
Dr. William Graham, the President of ELERT Publications and Presentations, has 25 years of management, business, teaching and consulting experience. Bill has held Personnel Psychologist and Training Manager positions and has been a consultant to such organizations as General Electric, Republic Steel, G.D. Searle, the Boys and Girls Clubs of Chicago, and The Chicago Transit Authority. He has also served as a Program Research Monitor and Research Psychologist for the Military Entrance Processing Command, helping to design and market the Armed Services Vocational Aptitude Battery. This instrument is taken by over one million individuals every year as a part of the recruiting and enlistment effort of the armed forces in the U.S. In all of these capacities, Bill has taught, consulted and been a coach to educators, administrators, managers and directors of private companies, military organizations and school systems throughout the United States, and in several countries in Europe and the Far East.
Bill Graham has also written several training packages and test instruments, including the ELERT Learning Styles Inventory © 1991, and the ELERT Trainer/Teacher Guide and Learner Guide © 1993. He has recently finished a unique color illustrated children's book called Breakfast with Sammy © 1997, that provides parents and other experienced readers a guide and glossary to help children read and imagine.
Bill had served as an adjunct faculty member at a number of colleges and universities, including Roosevelt University, Webster University, Columbia College, the School of Management and Business at National-Louis University, the City Colleges of Chicago, the College of Lake Country, and Oakton Community College. In addition to being President of ELERT Publications and Presentations, he also serves as Assistant Professor and Academic Coordinator with the Applied Behavioral Sciences program at National-Louis University. Bill has a Ph.D in Psychology from Case Western Reserve University.