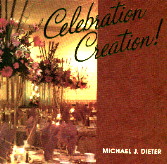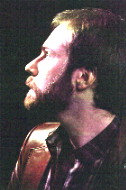 by
Michael J. Dieter
An artist in floral design, Michael Dieter achieved success by bringing any occasion to life with flowers from the everyday to entertaining, wedding and holidays.
In 1995, it all changed when he was struck by what doctors and specialists call an atypical form of Multiple Sclerosis. From loss of sight and paralysis to a sight deficit and use of a cane, his incredibly positive attitude and strong faith in God have propelled him back to reasonably good health.
Although unable to continue his vocation, Michael began to categorize hundreds of photographs of his floral design to create a book. He added descriptive narration to complement the photographs.
Celebration Creation! is the culmination of Michael's efforts, with over 200 color photographs and 108 pages, including an extensive rose reference guide. Celebration Creation! is an ideal gift for people who enjoy flowers, party planners, brides-to-be and / or anyone who highlights the holidays with flowers.
(ISBN # 0-9659134-0-6, 108 pages, $42.95)
To Order: Send check or money order to;
Michael Dieter
5523 Sanibel Drive, Minnetonka, MN 55343
Tel: 612-933-6642.